---
Michael Merlino – Owner, Head Coach
Certified Running Coach – Road Runners Clubs Of America (RRCA)
Certified Fitness Trainer – ACE, Cooper Institute
Fitness & Wellness Consultant, Speaker, Blogger & Writer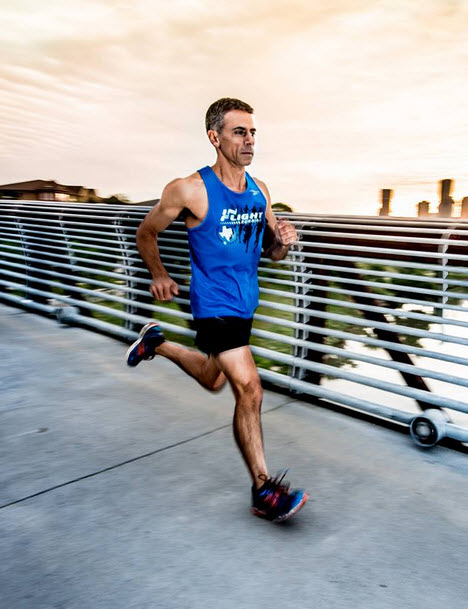 In Flight Running is owned and operated by Houston running coach and personal fitness trainer, Michael Merlino. He started his career in the fitness industry when he founded Merlino Fitness in 1997 following 10 years in corporate Human Resources.  Michael has 20 years of experience as a professional fitness trainer and 18 years as a running and marathon coach. He is certified nationally as a running coach with the RRCA (Road Runner's Clubs Of America).
After catching the running bug in 1999, Michael trained for and finished his first marathon. From 2000 to 2002 he continue running marathons and became a charity marathon coach for The Arthritis Foundation's Joints In Motion Marathon Training Program. In that role, he coached and assisted Greater Houston area walkers and runners who fund raised for the foundation, trained for and finished the Honolulu, Hawaii and Dublin Ireland Marathons.
During the early years of his personal marathon training and run coaching career, he found that group training programs that truly catered to the personal needs of runners of every skill level were lacking in the Greater Houston area.  He founded In Flight Running in 2004 in hopes of creating a run coaching program and training experience that was built around a much higher level of support and coaching that truly welcomed runners of any skill level including first time marathoners and half marathoners.
Prior to becoming a fitness trainer and running coach, Michael worked as an employee benefits counselor for The Baylor College of Medicine, was an employee benefits manager for Houston Lighting & Power (now Reliant/Centerpoint Energy) and an HR/Benefits consultant to the South Texas Nuclear Power Plant in Bay City, Texas. His connection with the corporate world has continued during his fitness career as he has presented fitness, wellness and run coaching programs and seminars to work groups within fortune 500 companies Accenture, Exxon Mobil and Chevron.  He has also presented to Houston-based companies and organizations including Harris County, Acergy Energy, Cemex, The Baylor College of Medicine, The Houston Police Officers Pension System, local law firms and various small to mid-sized companies.  His previous corporate HR business experience coupled with more recent corporate wellness initiatives has allowed him to professionally run In Flight Running and better understand the training needs and challenges of his fitness clients and runners.
Coach Michael has a true passion for fitness, running and teaching others how to use the sport of running to optimize wellness. He walks (more like runs) and talks the sport of running every day and keeps well connected with the local Houston grass roots running and racing scene and other wellness professionals who support the sport. He has designed In Flight Running to be a very supportive and a non-intimidating training experience that welcomes runners of all skill levels. Every athlete who is an In Flight member has full access to Michael via email and phone. Equal attention is given to all runners with the goal of improving every athlete's running while reducing their risk of injury by using smart training methods.
Michael trains clients and runners at a fitness studio in Houston's Timber Grove area (just west of the Houston Heights), along running trails inside the 610 loop and utilizing over 300 designed training routes within Houston and Southwest Texas to support his Distance Marathon/Half and Launch 5K/10K programs.  He is also a fitness and wellness consultant, speaker, writer, and blogger.