---

Click Here For Program Benefits, Cost & Registration
Launch is a 13 week, 5K & 10K training program designed to train walkers and runners to comfortably finish a Greater Houston area 5K (3.1 mile), 4 mile, 5 mile or 10K (6.2 mile) race.  Whether you are learning the sport of running for the first time, returning to the sport after an extended break, wanting to improve your race times at the 5K or 10K level, needing to build up your endurance to tackle the half marathon or marathon distance, or just looking for a solid running, walking or walk/run fitness program, Launch is your ticket to success!
The title says it all as Launch is meant to get you off the launch pad by helping you improve your fitness level, lose weight, improve your walking or running and live a healthier lifestyle with the sport of running.  The Launch program welcomes walkers and runners of all skill levels from the true newbie to the intermediate level runner.  With great coaching and support and a group of Houston's most welcoming runners and walkers, we can help you take your fitness and running or walking to a new level.

---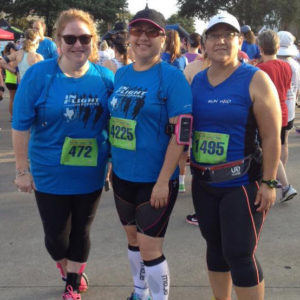 Who Is Launch Designed For?
The Launch program is coached and designed with Coach Michael Merlino's 20 years of experience as a certified fitness trainer and 18 years as a running coach.  Launch is held during three, 13 week seasons each year (winter, spring/summer and fall).
See our group program calendar here for training dates.  
Coach Merlino focuses on teaching walkers and runners the fundamentals of proper walking and running form.  Members learn the sport of running from the ground up with training schedules and tips and coaching on achieving weight loss and improving fitness, stamina, and strength.  Launch meets participants at their current fitness level and safely builds from there to minimize injuries and build a solid running or walking base.
Since Coach Michael is both a certified fitness trainer and running coach, he takes a more holistic approach to walking and running by offering webinars, workshops and carefully designed workouts for safe progression, injury prevention, strength training, stretching, improved flexibility, nutrition, proper running form and more.  In Flight Running also teams up with Houston's best dietitians, sports doctors and wellness professionals who offer their expertise to the group.

---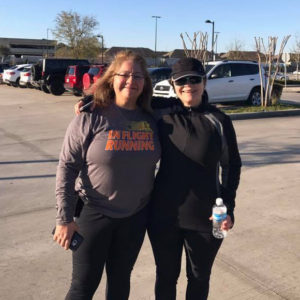 When Is Training Offered?
Each year Launch offers three, convenient, 13 week training seasons as summarized below. You can also purchase all 3 seasons for almost an entire year of training for a lower price with our "Launch Year Pass" option.  Registration for our Year Pass option is offered annually between December 1st & January 31st for the upcoming training year.

2017 Winter Season – Registration Closed
13-week season: January 17th – April 15th
5K Houston race goal: Run for the Rose – April 2nd 
5K/10K Road Trip Race Goal: Blue Bell 5K/10K – Brenham TX – April 8th

 Program Benefits & Cost    
 FAQs    
 Join Now
2017 Spring/Summer Season – Registration Closed
13-week season: April 18th – July 15th
Register Here Thru April 30th
5K Race Goal: Christmas In July 5K – Downtown Houston – July 8th
10K Race Goal: Heatwave 5 Miler – Baytown – July 4th

 Program Benefits & Cost     
 FAQs    
 Join Now
2017 Fall Season – Register Today!
13-week season – September 5th – December 2nd
Early Register Here Thru August 6th & Save $15.00
5K/10K Race Goal #1: Pearland Turkey Trot 4/6 Miler – Pearland – Nov 23rd 
5K/10K Race Goal #2 : Trifigura 5K/10K – Houston – Dec 2nd

 Program Benefits & Cost     
 FAQs    
 Join Now
---
Group Run/Walk Training Locations
Two, weekly training runs/walks are held at the following locations and times.
Corner Bakery Cafe – Houston Heights – 107 Yale Dr. Houston TX 77007
Wednesday evenings – 6:15 PM meet – 6:30 start
Saturday mornings – 7:00 AM meet – 7:15 start
Conveniently and centrally located close to downtown and I10, most of our group runs originate from the Corner Bakery Cafe on Yale Dr.  This location allows for plenty of parking and access to safe and beautiful enclosed trails along the Historic Heights area, White Oak Bayou and the Buffalo Bayou Park.  Members also receive a post run 10% discount on meals at the Corner Bakery.
Fleet Feet Sports Running Store – Rice Village – 2408 Rice Blvd  Houston TX 77005
Occasional Saturday mornings – 7:00 AM meet – 7:15 start
Once every other month and on select Saturdays, our Saturday run originates from the Fleet Feet running store in Rice Village. This location allows us to start our workout from Houston's original specialty shoe store and run the beautiful Rice University and Hermann Park trails.  Member runs from Fleet Feet also offer our active members an opportunity to shop and save 20% on shoe, apparel and running gear purchases on official In Flight Running Saturday group runs. Members continue to enjoy an ongoing 10% discount while training with us.