---
Train For Summer, Fall & Winter Races
38 Weeks – June 2, 2018 – Feb 16, 2019
Early Registration Pricing Ends March 31st
Registration Closes August 31st or When 300 Member Cap Is Reached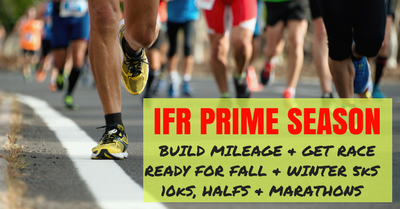 Our 38 week primary training season starts in early June and runs through late February 2019.  Learn the sport of running or train for any race distance from the 5K to marathon distance.  Like our Spring season, the Prime season offers a Tuesday evening group run and a Saturday morning fully fluid-supported long run to build endurance.
Race training schedules are provided for all runners that start you at your current fitness level and safely build up in mileage as you approach your race day distance.  Train for our hometown Houston Half Marathon or Marathon or pick a race anywhere in the world and we will get you ready to run it well right here in Houston. Every year the entire team ends up training for over 30 various races in the United States and overseas.  Some members just run with the group to improve their running and stay in shape.  For more info on our Prime season, program benefits and cost, check out the links below.

Here is a quick rundown of what you get with our Prime program:
Saturday morning organized, supported and coached long runs.  Gatorade, water & carb snacks are provided! 

Tuesday evening "pick your workout night". Grab an interval workout (track or hills) or a training run

Free parking at our group run homebases

Invites to a few, Sunday morning trail runs at beautiful Southwest Texas State parks like Huntsville, Lake Houston Wilderness Park etc.

Online maintenance or race training schedules for your next spring or summer race accessible via a smartphone app 

Full access to Coach Michael Merlino via phone, email or 1 on 1 coffee talks when needed

Invites to live and on-demand running webcasts with Coach Michael on a variety of topics to keep you coached up and motivated

Member discounts on video gait analysis, metabolic testing (RMR & VO2 Max testing) or strength training sessions

10% member discount at Houston area Fleet Feet running stores

20% Fleet Feet discount when we run from the Fleet Feet West University store location
Also check out our Year Pass Option that bundles our Prime season with our 14 week Spring season for an entire year of run coaching and support for your best value!
Have questions about our Prime Season?  Then type your question and email address in the chat box to the right.  If Coach Michael is available live, he will connect with you. If he is not available for a chat, he will email you back to set up a phone call to answer your questions.  You can email us at info@inflightrunning.com or call us at 713.523.2577 ext. 2.  Thanks, and we hope to see you on the In Flight Running training team this Spring or Summer!
  More Info     
  FAQs    
  Membership Benefits & Cost     
  Join Now

---