---
Let Us Build You A Comprehensive Race Training Schedule For Your Next Race
Training Schedules Included With All Houston Area Group Memberships
Or Purchase A Standalone Race Schedule or a Year's Worth of Schedules Here!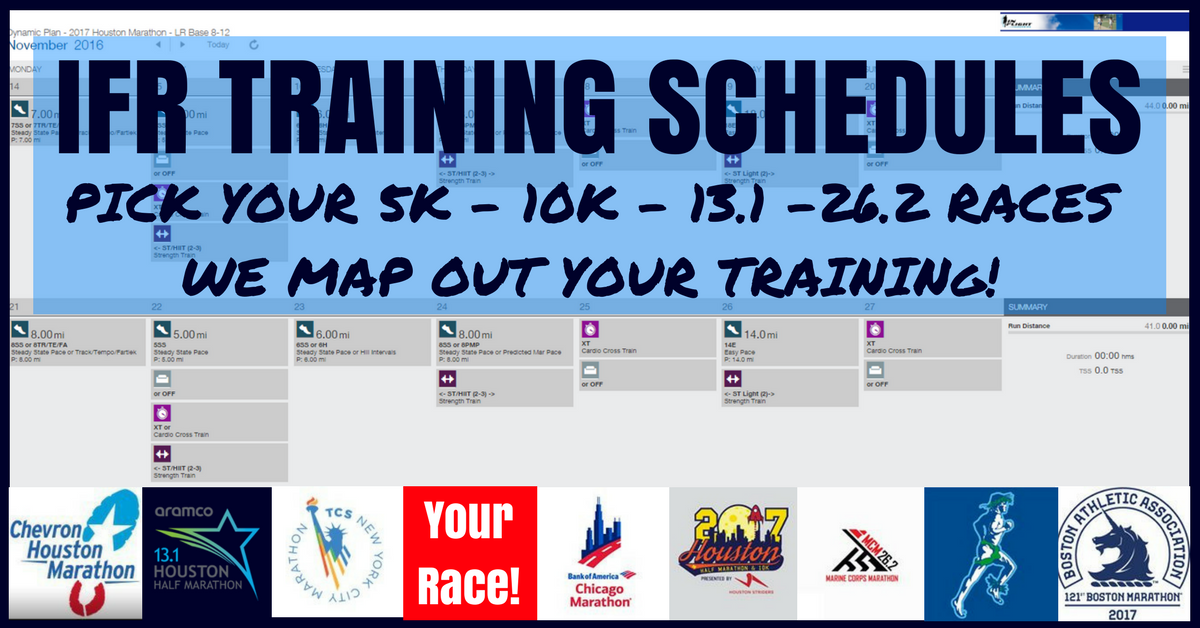 There's just no way around it.  If you really want to succeed with your running and racing you must have some type of training schedule to follow leading up to each major race goal. Solid schedules should tell you how often to run, how far to run, how fast to run and how much recovery you need to bounce back from training runs and minimize your risk of injury.  But they should also offer you enough flexibility to fit your lifestyle and adjust as needed during your training season.
We build training schedules by assessing your current fitness or running skill level and including safe and realistic progressions with your mileage as you approach your goal race.
Our race training schedules are included with any purchase of our Houston Texas group run coaching programs (Distance or Launch), Houston area 1 on 1 coaching or any online personal run coaching programs.
But if your schedule does not allow you to train with our group here in Houston or you live outside of the Greater Houston area, we offer training schedules specific to a race or for an entire year of training. For example, if you are beginner training for the Chicago Marathon you can purchase a training schedule for Chicago or go with our 1-year plan and train for Chicago and any other races on your training calendar within a 1 year period of your purchase date.
Here Is What Is Included With Our Training Schedule Service:
Training schedules are accessible online & via a smartphone app so you have easy access to every workout leading up to your race.
You get the entire training schedule leading up to your race day so you can plan your training runs around your life.
Our training schedule tool emails you daily to let you know what is on the schedule for the next two rolling days
The training schedule is comprehensive and includes not only recommended days to run and mileage but what days to do speed training, hill work, strength training, cross training and rest

.

You receive our training schedule guideline which tells you exactly how to read the schedule, how to determine your current pacing for every type of run on the schedule and other tips to get the most out of your training.
With our annual schedule plan, you just tell us when you finish your first race and we load up a new schedule for your next race
Training Schedule Pricing
Free with the purchase of our Houston Distance or Launch 5K/10K program, 1 on 1 coaching or online coaching
$55.00 – Single race training schedule – up to 6 months leading up to your next goal race
$95.00 – 1-year training schedule package – one year's worth of training schedule access for your primary races

Purchase of standalone training schedules does not include run coaching services 
How To Get Started On An In Flight Running Training Schedule
We will send you a link to complete a runner profile with the information we need to complete your first schedule

We send you instructions on how to enroll on our training schedule tool and app

We load up your schedule and send you our Training Schedule Guideline so you can start training!
Have questions about our training schedule service?  Then type your question in the chat box to the right, email us at info@inflightrunning.com or call us at 713.523.2577 ext. 2.