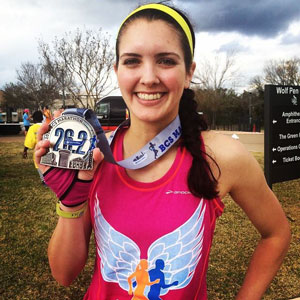 2016-17 Distance Program - Marathon & Half Marathon Training
Early Registration Now Open!
Register Through March 31st @ Midnight Central For Best Pricing
Choose Your Race Goal - We'll Get You Ready!
Registration is now open for our 2016-17 programs including our 39 week "Distance" marathon & half marathon training season which starts in on May 28th, 2016 and runs through February 17, 2016. Register during early registration through March 31st and get the best possible deal on the 2016-17 season.

In Flight Running offers the longest, continuous training season in the Greater Houston area. The sooner you join the more training you can get in for that next goal marathon or half marathon race. Pick your goal races and we provide comprehensive on-line training schedules, full fluid support during long runs, awesome support, excellent coaching, webinars and more to help you get ready for that next big race goal.
Train for our hometown Houston Marathon/Half in January, the early fall series of major, national races (Chicago, San Antonio, New York, Marine Corps DC etc.) or winter races (Dallas, Vegas Rock n Roll, Houston, Miami, Sugarland, Woodlands, Austin, New Orleans RnR, Fort Worth etc.) Our longer, 39 week season allows beginners to build a solid running base and veteran marathoners to train for earlier fall races like New York City and Chicago and run multiple races within the same training season.

For more information on our programs email us at info@inflightrunning.com, call Coach Michael Merlino at 713.523.2577 to discuss your own situation or register at the link below:

More Info
Early registration now open! - Commit to a spot on our training team early and save before March 31st.



---
To Learn More About Our Programs Check Out This Info Webinar With In Flight Head Coach & Founder Michael Merlino



If you need serious coaching and awesome support we've got it!
Runners of all skill levels and paces are welcome!

A welcoming group of over 200 members means more running friends and the camaraderie you need to keep you accountable!

Online comprehensive and progressive race training schedules accessible online or via a smart phone app

Daily email alerts that remind you what workouts and mileage are on the schedule for a rolling two days

In Flight Running phone app with group run check in, weather alerts, notifications of member news & access to In Flight webinars and radio show episode replays

One on one "coffee talks" available with head coach Michael Merlino to help you with your training and racing strategy

Fully supported Saturday long runs including fluid stations/trucks (iced down water and Gatorade) every 2 - 2.5 miles

Sag wagon service to take you back to your car if needed

Key drop service at homebase - we'll watch your keys while you run your long run

Licensed, certified massage therapists available at homebase after each long run

Live and on demand webinars & Q&As so you can learn more about running 24/7 where ever you are

Stellar Houston Marathon/Half race day support with 6 team cheering/aid stations on the course to propel you to the finish line!
---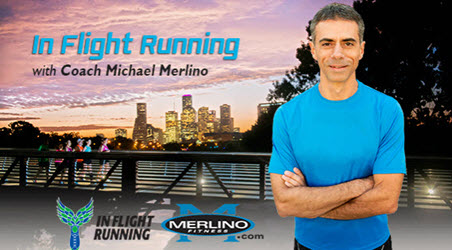 Join Us Live For The In Flight Running The Radio Show
Tune In For Training & Racing Tips Each Week From Coach Michael & His Guests
Show Airs Live Every Friday @ 11AM Central On The Voice America Radio Network

Join In Flight Running founder and Head Coach. Michael Merlino, every Friday at 11am central time for the In Flight Running internet radio show on the Voice America Health & Wellness Radio hannel. Join Michael and his guests as they help you navigate your way towards becoming a better runner. Use the show episode player to the left to check out episodes now or hit the links below from his more popular show episodes.

The show is live and on demand on line on Michael's show host page or via the Voice America Radio app. It is also available via Podcast. Check out the links below for the most convenient way for you to access the show.

Access The Show Here:
Listen to episodes on my Voice America host page
Listen or subscribe to the podcast on Stitcher Radio App for Android devices

Listen To Our Most Popular Episodes Here
12/19/14 - Tech Gadgets & Gear Review For Running & Fitness
01/16/15 - What You Need To Know Before Training For Your First Marathon
02/13/15 - Running Gait, Foot Types & Common Running Injuries
02/20/15 - Determining Proper Run Pacing For Training & Racing
03/06/15 - Run Faster With Interval Training
04/10/15 - The Houston Marathon: An Interview With Race Director Brant Kotch
04/24/15 - Dream Big With Your Running: 2015 Boston Marathon Recap

05/01/15 - Getting Prepared For Marathon Training Season
05/15/15 - Shoe & Gear Review Update: Lindsey Perkins with Fleet Feet Rice
05/22/15 - Long Run Training Tips
06/19/15 - Marathon Training & Racing Mistakes To Avoid