---
Runners World Magazine
2017 March Edition – "Ask The Experts Section" – Page 36
Question: "What Is The Minimum Weekly Mileage to Finish A Half Marathon?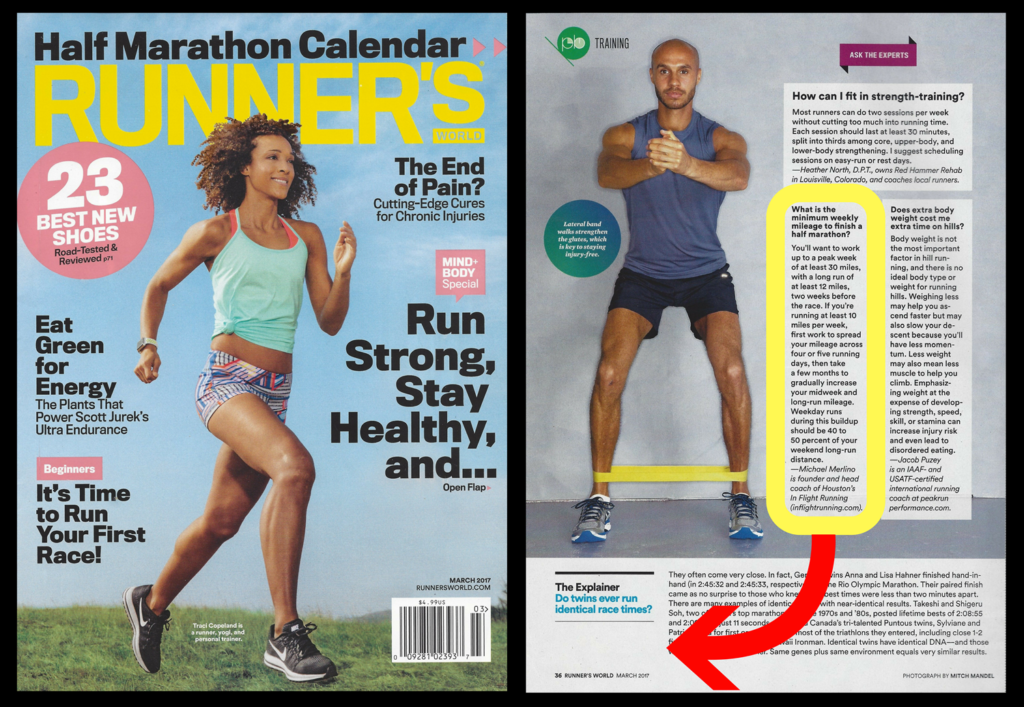 Answer: "You'll want to work up to a peak week of at least 30 miles, with a long run of at least 12 miles, 2 weeks before the race.  If you're running at least 10 miles per week, first work to spread your mileage across for our five running days, then take a few months to gradually increase your midweek and long-run mileage.  Weekday runs during this buildup should be 40 to 50 percent of your weekend long run distance."
– Michael Merlino is the founder and head coach of Houston's In Flight Running. 
---
The Benefits Of VO2 Max Metabolic Testing
KRIV Fox 26 TV Houston – 9PM News Hour – February 23, 2011


In Flight Running founder, head coach and fitness trainer Michael Merlino, had a blast putting Houston Fox 26 reporter Kristin Kane and Meteorologist Dr. Jim Siebert to the test with a live, in studio, VO2 Max test.  The result was determining their personalized heart rate training zones for optimal fat burning and improved athletic performance. Both fared well and learned how you really don't have to kill themselves on the treadmill or over pace with high-intensity workouts to efficiently burn body fat. For more info on the benefits of metabolic testing including VO2 max, anaerobic threshold and resting metabolic rate (RMR) check out the links below. All metabolic testing services highlighted here can be purchased from In Flight Running. Coach Michael personally administers and reads all test results and how they apply to each individual's fitness or running program.


 More Info About VO2 Max Metabolic Testing

 Purchase Metabolic Testing From In Flight Running 
---
2011 Houston Marathon Preparation
KPRC NBC TV Channel 2 Houston – Sports Sunday – January 16, 2011

In this clip, Houston KPRC Channel 2 reporter Winston Dutchin interviews local runners, coaches, and sports docs to illustrate the challenge of marathon training and how runners get those needed training miles in to prepare for the 26.2-mile journey to the finish line. A key component of any long distance training program is managing the inevitable injuries that many runners must overcome to get to the start line and run a solid race.   This clip features interviews with In Flight Founder & Head Coach, Michael Merlino, In Flight Runner and first-time marathoner, Stina Frederiksen and sports chiropractor, Dr. J.D. Hasenbank, DC.


 More Information About In Flight's Distance Marathon/Half Marathon Program

 More Information About In Flight's 5K/10K Launch Training Program
---