---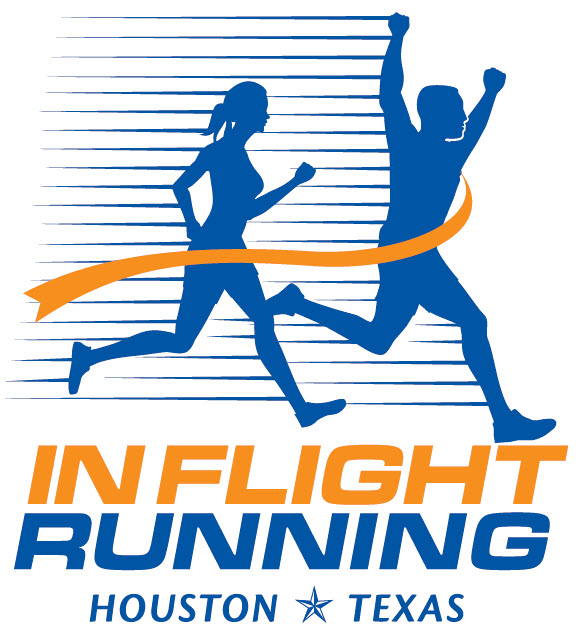 Founded in 2004, In Flight Running offers the Greater Houston Texas area both group and one on one run coaching programs and services. We also offer online remote coaching to runners worldwide.  We welcome runners of all ages, skill levels and paces and also coach walkers for the 5K and 10K distances.  Group training runs and workouts are held in a non-intimidating environment for beginners yet challenging enough for the most experienced runner. Whether you are learning the sport of running for the very first time or shooting for that elusive Boston qualifying time, we can help "take your running to new heights" with professional coaching and training programs that minimize your risk of injury and get great results.
In Flight Running takes a holistic approach to running by including coaching, advice, seminars, webinars and workshops on strength training, cross training, flexibility, injury prevention, and nutrition.  Friendly coaches & staff, full fluid support during every Saturday group long run, a wide variety of over 300 Houston & Southwest Texas area running routes and fun running road trips are just a few reasons Houston area runners love to train with our team.
Programs are available to prepare runners for the 5K to Marathon distance with on-line training schedules provided to keep our athletes accountable and on track. In Flight's Distance program trains runners for the half marathon and marathon distances during a 9 month season (longest continuous training season in Houston). The Distance program also includes interval training options with weekday track and hill training workouts to improve running form, economy,  and speed.
Our "Launch" 5K/10K program trains walkers, walk/runners and runners to train for 5Ks (3.1 miles) (6.2) during three, 13 week seasons annually (Fall, Winter. Spring/Summer).  No matter your fitness level, "Launch" is a great way to lose weight, improve your fitness, learn the sport of running from the ground up or return to the sport after a lay off.  Pick your race distance and In Flight Running will get you ready to toe the line and finish your next race with confidence.
Special running programs and camps are also offered for youth ages 8-12 and 13-18.  Our military/police/swat/fire department program helps participants pass the running segment portion of the physical readiness test for both new and re-qualifying military, police and firefighters.
For more specific info about our programs click on the programs navigation button at the top of any page and select a program from the pulldown menu.  Got questions about any of our run coaching programs or services?  Then call Coach Michael Merlino at 713-523-2577 ext. 2 or email him at info@inflightrunning.com.
Thanks for visiting our website!