---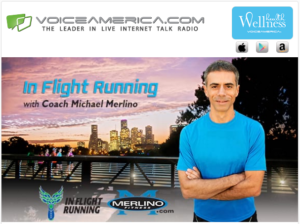 Since the 1990s the popularity of running has exploded with more people than ever embracing the sport by training for and participating in road races worldwide from the 5K to ultra-marathon distance. The once, elusive 26.2-mile marathon has now become one of the most popular physical and mental challenges in the world for those looking to go the distance and conquer a huge lifetime goal.
In Flight Running the radio show celebrates the great sport of running and welcomes listeners who are hungry to be the best runner they can be. Running coach and fitness trainer Michael Merlino and his guests offer training tips and an insider's view of the coaching techniques and tools he uses to help runners train for and reach the finish line. Get expert advice on training, improving running form, injury prevention and treatment, nutrition strategies, race preparation and more.
Check out the show replays at the links below from the Voice American radio network. And look for the In Flight Running podcast to return to Itunes Spring of 2017!
Ways To Listen
 Coach Michael's Voice America show archives page

Show Episode Archive
 Episode 21 – 06.26.15 – Proper Running Form & Gait: How To Assess & Improve It

 Episode 20 – 06.19.15 – The Don'ts Of Marathon Training & Racing

 Episode 19 – 06.12.15 – Tips On Race Strategies: Picking Your Next Race & Race Day Tips

 Episode 18 – 05.29.15 – Are You Running For A Reason? Charity Fund Raising & Running

 Episode 17 – 05.22.15 – Long Run Strategies & Warmup Races: Bill Gardner, Run In Texas

 Episode 16 – 05.15.15 – Running Shoes & Gear Review: Lindsey Perkins, Fleet Feet Houston

 Episode 15 – 05.08.15 – Racing The Natural Wonders of North America

 Episode 14 – 05.01.15 – Getting Prepared For Marathon Training Season

 Episode 13 – 04.24.15 – Dream BIG With Your Running: 2015 Boston Marathon Recap

 Episode 12 – 04.17.15 – How VO2 and Metabolic Testing Can Improve Your Running

 Episode 11 – 04.11.15 – Houston Marathon History & Race Preview – Brant Kotch, Race Director

 Episode 10 – 04.03.15 – Why We Run?  What Draws Us To Running And Racing?

 Episode 9 – 03.06.15 – Run Faster With Interval Training!

 Episode 8 – 02.20.15 – Determining Proper Run Pacing For Training & Racing

 Episode 7 – 02.13.15 – Running Gait & Common Running Injuries: Dr. Jeffrey Ross, Podiatrist

 Episode 6 – 01.30.15 – Trail Running & Ultra Marathoning Fun: Bill Gardner, Run In Texas

 Episode 5 – 01.16.15 – What You Need to Know To Train For Your First Marathon or Half Marathon

 Episode 4 – 01.09.15 – Nutrition For Weight Loss & Performance: Catherine Kruppa, Dietitian

 Episode 3 – 01.02.15 – The Benefits Of Running: Tips To Take Your Running To The Next Level

 Episode 2 – 12.19.14 – Tech, Gadgets & Gear Review For Fitness & Running

 Episode 1 – 12.12.14 – The Fitness Triad: Your 3 Pronged Plan For Success