---
Thanks For Visiting In Flight Running! 
Coach Michael Merlino here.  I'm the Founder & Head Coach of In Flight Running.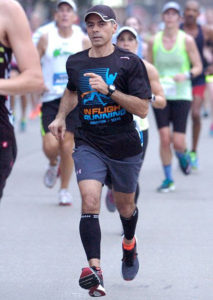 We've been around for 13 years coaching and helping runners here in Houston Texas on improving their running and getting race ready. If you live in the Greater Houston area we would love to have you on the In Flight Running Team learning the sport of running or training for your next finish line.  We welcome runners of all skill levels.  With an In Flight membership, you can train for any distance from the 5K to Marathon level, get the awesome support you need, meet and train with fellow runners who love to run and receive the professional coaching and personal attention you need and deserve to succeed with the sport.
Beyond group and one on one run coaching in the Houston area, we also offer online coaching so no matter where you live we can coach you.
Take our website for a spin, explore our running programs, check out our free resources, follow us on social media and subscribe to our free email news & updates.  If you have questions while browsing the website, look for my pop-up chat window to the right and fire away. I'll answer your question if I'm online.  If I'm unavailable, enter your email address and I will shoot you a response back within one business day.
For a rundown of our most popular Houston and online training programs for runners, check out the info and links below.  Thanks for stopping by!
Coach Michael Merlino
Founder, Head Coach
In Flight Running
"Make the miles count!" TM
---
Spring Training Season – Houston – 14 Weeks – Feb 24 – May 26
Early Register & Save Through January 31st!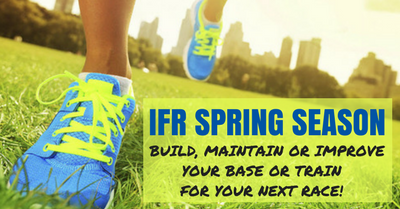 Our 14 week Spring training season is a great starting point for anyone who wants to learn the sport of running or an easy way for more experienced runners to maintain or rebuild their base for the primary training season.  The  Spring program welcomes runners of every skill levels and paces who need the support and coaching to improve. Just run with the group or train for any race distance from the 5K to the marathon. 
Group training runs are offered twice a week on Tuesday evenings and Saturday mornings at locations inside the 610 loop close to downtown Houston and the surrounding trail systems along Buffalo Bayou & White Oak Bayou.  
The Spring season is also a great way to build your running base before training for your first half marathon or marathon finish during 2018 or early 2019.
For more information on our Spring program check out the links below. Register before January 31st and save during early registration!  Or bundle our Spring & Prime seasons for our Year Pass option for an entire year of training for our best value.
Have questions about our group programs? Then enter your email and start a conversation in the chat window to the right.  If we are not available we will email you back to set up a phone call to answer your questions. Or you can call us at 713-523-2577 ext. 2 or email us at info@inflightrunning.com.  We would love to have you on our training team!
  More Info     
  Membership Benefits & Cost     
  Join Now

---
Prime Training Season – Houston –  38 Weeks – June 2, 2018 – Feb 16, 2019
Early Registration Ends March 31st – Registration Closes July 31st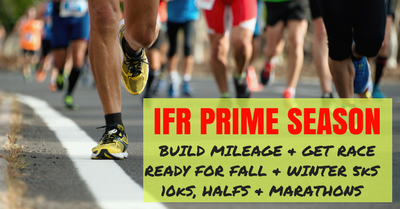 Our 38 week primary training season starts in early June and runs through late February 2019.  Learn the sport of running or train for any race distance from the 5K to marathon distance.  Like the Spring season, the Prime season offers a Tuesday evening group run and a Saturday morning fully fluid-supported long run to build endurance.
Race training schedules are provided for all runners that start you at your current fitness level and safely build up in mileage as you approach your race day distance.  Train for our hometown Houston Half Marathon or Marathon or pick a race anywhere in the world and we will get you ready to run it well right here in Houston. Every year the entire team ends up training for over 30 various races in the United States and overseas.  Some members just run with the group to improve their running and stay in shape.  For more info on our Prime season, program benefits and cost, check out the links below.
Note: Start training earlier in late February with our Spring Season and bundle it with our Prime Season for an entire year of coaching, training and support. We call it the Year Pass and it gives you our best membership value. See the membership benefits & cost table link below for details.
  More Info     
  Membership Benefits & Cost     
  Join Now

---