---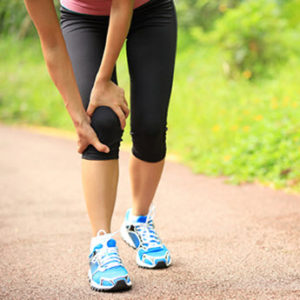 In my 18 years as a running coach, I have found that it truly takes a village to build solid runners.  The journey to the finish line starts with a runner's desire but professional coaching, managing injuries and practicing proper nutrition has a huge part in every long distance runner's success.  So over the years, In Flight Running has built great partnerships with some of Houston's best sports docs and wellness professionals to help our runners get back on their feet and regain their momentum when they are grounded with a running injury.
In Flight Running aggressively triages our member's injuries and refers our runners to a great support team of sports medicine doctors, chiropractors, physical therapists, massage therapists, and dietitians.  Many of these Houston wellness professionals also present webinars and seminars to our runners during our training season to help prevent injuries and maximize performance.
Below is a listing of some of our favorite wellness professionals which comprise our Wellness Advisory Board.  Even if you do not train with our Houston run coaching group, we highly recommend these great professionals to all Houston area runners, exercise and sports enthusiasts. 
---
Dr. Jeffrey Ross, Podiatrist – D.P.M., FACFAS
Clinical Associate Professor, Department of Medicine, Baylor College Of Medicine
Fellow, American College of Foot and Ankle Surgeons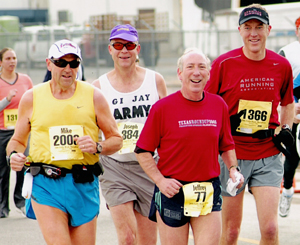 Dr. Ross is one of the most knowledgeable physicians in the greater Houston area if not nationally on running related foot, ankle, and lower leg injuries. If it was not for his expertise when I severely fractured a toe early in my running career I would have never experienced the thrill of finishing my first marathon or coaching runners since 1999.
Dr. Ross has completed over 25 marathons himself including a few trips to the Boston Marathon so he loves and knows the sport he serves very well. He understands each runner's need of wanting to get back to the business of training for that next race after suffering a setback with an injury.
He is still actively involved in the running community and serves on the Chevron Houston Marathon and Aramco Half Marathon medical team every year.
Dr. Ross is pictured here (BIB #77) running the Little Rock Marathon with former Arkansas Governor, Mike Huckabee (the governor is pictured on the left).
Contact Dr. Ross
Baylor Clinic
6624 Fannin, Suite 2450 Houston TX 77030
Office: 713-798-5700
Email: jross67785@aol.com
---
Dr. John Harrell, MD, Physical Medicine & Rehabilitation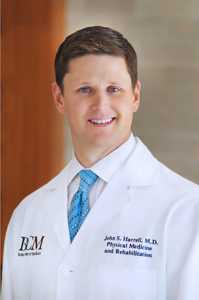 Dr. Harrell is a specialist in the non-surgical treatment of a wide variety of musculoskeletal disorders of shoulder, elbow, wrists, hands, hip, knees, ankles, feet and spine.  Commonly treated disorders include running injuries, rotator cuff disease, lateral epicondylitis (tennis elbow), carpal tunnel syndrome and other nerve entrapments, Achilles tendonitis, runner's knee, plantar fasciitis, Morton's  neuroma, osteoarthritis, and other sports and degenerative musculoskeletal disorders.  
His treatments & diagnostic options include musculoskeletal ultrasound, platelet rich plasma (PRP) injections, prolotherapy, steroid injections, medical acupuncture, nerve hydro dissection to release nerve entrapments, therapy and bracing prescription, medication management and physical activity prescription and counseling.
His expertise has helped many of our members get to the root cause of their injuries and seek sound treatment so they can continue to enjoy the sport of running and training for long distance races.  Dr. Harrell also serves as a volunteer for the medical team each year at the Chevron Houston Marathon & Aramco Half Marathon.
Contact Dr. Harrell
Baylor College of Medicine Medical Clinic
7200 Cambridge St. Suite 10C Houston TX 77030
Office: 713.798.7246
Email: jharrell@bcm.edu

---
Dr. Lourdes H. Labrada, DC, Sports Chiropractor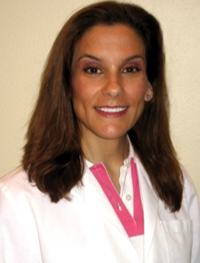 Dr. Lourdes Labrada is practicing sports doctor in the greater Houston area. She is a graduate of Texas Chiropractic College, Diplomate of the National Board of Chiropractic Examiners, and is licensed to practice as a chiropractic physician in the state of Texas. She is a member of the Texas Chiropractic Association, and the American Chiropractic Association.
Prior to becoming a chiropractor, Dr. Labrada was a certified professional fitness trainer.  In 1994 she became the youngest female to ever win the Miss Texas NPC bodybuilder championship. 
Dr. Labrada specializes and is certified in Active Release Therapy (A.R.T.). ART is a patented, state of the art soft tissue system/movement based massage technique that treats problems with muscles, tendons, ligaments, fascia and nerves. Headaches, back pain, carpal tunnel syndrome, shin splints, shoulder pain, sciatica, plantar fasciitis, knee problems, and tennis elbow are just a few of the many conditions that can be resolved quickly and permanently with ART. These conditions all have one important thing in common: they are often a result of overused muscles which many runners suffer from.
Her bedside manner and patience when treating clients is exceptional and she has helped many of our runners work through running related injuries so they can complete their training and get to the start and finish lines of their races.
Contact Dr. Labrada
Labrada Chiropractic
4801 Woodway Suite 369 – Houston TX 77056
Office: 713.622.0707  Fax: 713.622.7093
Email: info@labradachiropractic.com
---
Norma has been in private practice as a Master Massage Therapists since 1996 and is the owner of Executive Massage Center in Houston.
She dedicates her private practice to therapeutic and rehabilitative massage therapy with certification in a variety of modalities. Norma has served as the director of the largest massage school in the Houston area for the past 7 years, educating and sharing the gift of massage with other therapists.
Norma is certified by the National Certification Board of Therapeutic Massage and Bodyworks and the founder of ErgoMyo Therapy for preventative, carpal tunnel and repetitive stress syndrome injuries.

She is also employed at the Houston Methodist Hospital as a massage therapist.  She has worked with world class, professional athletes, and performers including the Houston Ballet.  During the 2014 FIFA World Cup soccer tournament, she trained a team of massage therapists to work on the athletes from the various countries represented.
Contact Norma
Executive Massage Center
Address: 8191 Southwest Freeway Suite 107 Houston, TX 77074
Office: 281-980-2076
email: norma.reyna1@gmail.com
---
Catherine Kruppa, Dietitian (MS, RD, LD, CDDS)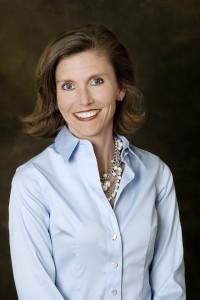 Catherine is the owner of Advice For Eating, a nutrition consulting company in Houston, Texas.
She earned her Bachelor of Science in Nutritional Sciences and Master of Science in Nutrition from Texas A&M University. Catherine is a registered, licensed dietitian and wellness coach and the Director of Nutrition for US Diving. She is also Board Certified in Sports Nutrition who specializes in weight management, sports nutrition, diabetes, eating disorders, heart disease, and pediatric nutrition. Catherine was a member of the Texas A&M Varsity Diving Team and is currently an active member of the running community in Houston and a Boston Marathon finisher. She has competed in 5 triathlons, 15 marathons, and 3 ultramarathons. Catherine also gives nutrition tips on KSBJ 89.3 radio and KLOVE radio in Houston. 

She is a frequent speaker for many organizations and businesses. She speaks on various topics in the area of nutrition including healthy eating, weight management, disease prevention, nutrition and exercise, and osteoporosis. She has also presented programs for Channel 13 News Health Beat, Channel 2 News, Channel 8 Midday Show and Fox News. Catherine worked as the local dietitian for the Dr. Phil Ultimate Weight Loss Program and the dietitian for the 2004, 2008 and 2012 US Olympic Diving Teams. Other noteworthy nutrition clients include Former President George H. W. Bush, Olympic Gold Medalists Laura Wilkinson and David Boudia.
Contact Catherine
Advice For Eating
Address: 1622 Alabama St Houston Texas 77006
Office: 281-974-1559.
email: catherine@adviceforeating.com
---