---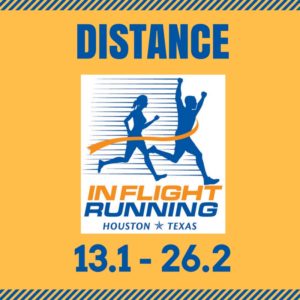 Click Here For Program Benefits, Cost & Registration
If you have BIG goals of finishing your first half marathon or marathon, earning a new personal record at the 13.1 or 26.2-mile distance or capturing that elusive Boston Qualifying time, In Flight Running can help! Train for the Houston Marathon or Half Marathon or any other race on planet Earth right here in Houston Texas.  In Flight Running offers a continuous, year round, long distance group training program to get runners of every skill level race ready.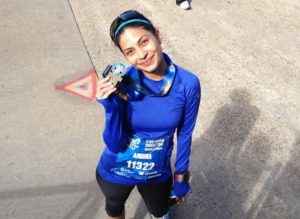 Our well-organized training programs offer professional run coaching, fluid supported Saturday long runs, track workouts, hill training workouts, online training schedules accessible from your smartphone, private members only Facebook group and a pack of Houston's most welcoming runners to log your miles with. Train hard, get race ready and make some new running friends with people who love the sport as much as you do.
Flexible training programs are offered from the beginner to advanced level to fit your budget and busy schedule.  Have the need for speed or a new personal best? Then amp up your training by signing up for one of our Interval training tiers (Interval 1 & Interval 2) which include Monday track workouts and/or Wednesday hill training workouts.
Registration is now open for our 2017-18 marathon training season which starts on Saturday, May 27th.  We would love to have you on the In Fight Running team getting ready to earn that next medal.  
---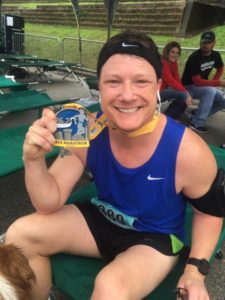 Who Is The Distance Program Designed For?
In Flight Running welcomes long distance runners of any skill level or pace.  We offer training schedules and weekly Saturday long run mileage routes to accommodate any 13.1 or 26.2-mile race goal. We have great success with first time half marathoners or marathoners, helping beginners continue to improve their race time and coaching intermediate runners to take their running to the next level or inch closer to or earn a Boston qualifier.
We do recommend that you be able to run at least 3 miles continuously before joining our Distance program or participating in one of our 13-week Launch 5K/10K training seasons as a prerequisite before joining the Distance training group.
We do not offer a walking training program for the marathon or half marathon distance but do welcome walkers in our Launch 5K/10K program.
---
When Is Training Offered?
In Flight offers two training seasons annually.  Our primary marathon/half season that prepares runners for the Houston Marathon/Half and other winter and fall races runs for 38 weeks from late May to mid-February each year.  We also offer a shorter 13 week Spring PR program that runs from late February to late May that helps runners maintain their offseason running base, rebuild their base for the upcoming marathon season or train for spring or early summer races.  Runners can also bundle our main Distance season with Spring PR season for an entire year of training with our Year Pass membership.  
Below is a breakdown of each of our long distance group training options.
---
2017-18 Distance Training Season
Registration Closed On August 31st
Sign Up Here For Our "Home Stretch Program" For The Final 19 weeks of training
38-week season: May 27 – Feb 17, 2018
Our primary marathon and half marathon training program is the longest, continuous marathon training season in Houston.  Check out the "Program Benefits & Cost" link below for a breakdown of training program tiers available, member benefits and cost.  We also offer an EZ Pay Option which splits the cost of membership over 3 monthly payments ($20 processing fee is applied to first payment). The first payment is billed on your enrollment date.  For more info on EZ Pay see the payment breakdown on program benefit link below or enroll in EZ pay now at the link below.
 FAQs    
 Program Benefits & Cost    
 Join Now   
 Enroll in EZ Pay 
---
2018 Spring PR Season: Registration Opens Nov 2017
13-week season: Feb 24 – May 19th – 2018
Spring training season allows runners to keep the base they worked so hard for, rebuild their base for the upcoming season or train for spring or summer half marathons or marathons.


 FAQs    
---
2018-19 Year Pass Option: Registration Opens Nov 2017
Entire Year Of Training – Feb 24, 2018 – Feb 16, 2019
Year Pass bundles our marathon training season with our Spring PR season for an entire year of support, coaching and training for our best possible price

 FAQs
---
Group Saturday Long Run Home Base Locations
Corner Bakery Cafe – Houston Heights – 107 Yale Blvd Houston TX 77007
Saturday mornings – Regular Season – 5:45 AM meet – 6:00 start
Saturday mornings – Spring PR Season – 6:30 AM meet – 6:45 start
Conveniently and centrally located close to downtown and I10, most of our group runs originate from the Corner Bakery Cafe on Yale Dr.  This location allows for plenty of parking and access to safe and beautiful enclosed trails along the Historic Heights area, White Oak Bayou and the Buffalo Bayou Park.
Fleet Feet Running Store – Rice Village – 2408 Rice Blvd  Houston TX 77005
Occasional Saturday mornings – 5:45 AM meet – 6:00 start
Once every other month, our Saturday run originates from the Fleet Feet running store in Rice Village. This location allows us to run the beautiful Rice running trail that circles the nearby Rice University campus.  Member runs from Fleet Feet also offer our active members an opportunity to shop and save 20% off on all purchases that morning and free post coffee and bagels compliments of Fleet Feet Sports Houston.