---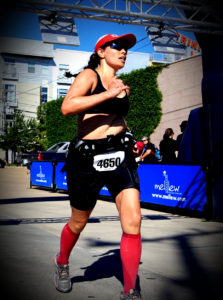 How She Used The Sport Of Running To Gain Optimal Health & Overcome Adversity
It seems I have struggled with my weight for a long as I can remember.  In an effort to get in better shape a friend introduced me to running. I leisurely ran a 5K, a 10K and muddle my way through a half marathon.  Then, life happened, my mother became ill and I stopped. As the years went by I moved farther and farther away from being healthy. By my mid-thirties I found myself weighing nearly two hundred and forty pounds. I was mentally and physically tired and showing signs of elevated blood pressure and blood sugar.  I knew as a nurse, I needed to make a change for my family, my patients and myself.
As part of my journey to better health and wellness, I remember finishing that 13.1 distance and wanted to get to run a marathon.  One of the doctors I work with encouraged me to sign up for the Houston Marathon lottery.  I got in! It was on. However, from my experience at the half marathon distance, I knew I needed the training and confidence to attempt it.  I began researching for a true marathon training program and found Inflight Running.
I began training for my first marathon in September of 2011 and toe-the-line at the Houston Marathon in January 2012. During the race, become consumed by the energy and excitement of the crowd and the overall moment; which caused me to go out way too fast. I made many rookie mistakes. Those mistakes and took their toll on my body.  With the finish line only a tenth of a mile away I collapsed and found myself needing medical attention. The finish line eluded me.  I was devastated, but not defeated.
I resolved to toe-the-line again, so I began training with Inflight for my next marathon in my hometown of Honolulu, HI in December of 2012.  The victory was mine and there are no words to describe the moment I crossed that finish line! Pure joy! However, I still could not get past the fact that I had not finished the Houston Marathon and still had unfinished business. Unfortunately, two days after the Honolulu Marathon I broke my foot and injured my ankle in a 4-wheeler accident.  This set my training back 9 months.  I knew Houston would have to wait. To build back my strength and confidence I began my third Inflight season to train for and successfully completing the Woodlands half marathon in March of 2014.  It was only a matter of time before I could sign-up and train for the Houston Marathon once more!
January of 2015 I tasted sweet revenge on the Houston Marathon as I crossed that finish line! Not only finishing feeling strong but 48 minutes faster than my finish time at the Honolulu Marathon!  Since the Houston Marathon, I have completed several half marathons. I completed the Austin Marathon in February 2016 for my niece and other children with Down Syndrome.  I am in my sixth season with Inflight training for the Hartford Marathon in October of 2016 to run my sister's first marathon with her.  Overall I have lost 100lbs, but more importantly, I have gained confidence and my health. Mahalo to God, my family and Inflight Running, I am in the best mental and physical condition of my life.  The running journey continues!
Aloha!
Helen Matthis